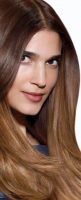 Discover the bold, rich, full-bodied look of a Demi! Brilliant. Seamless. Demi Color. NO AMMONIA!
Cera-Oil TM Conditioning Complex helps rebalance porosity for seamless, rich, long-lasting color that stays true to tone.
Delivers endless color services – color balancing, toning, grey blending / coverage, color correction, glossing service, lowlights.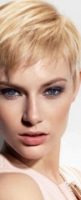 Finally… Color Perfection for Compromised Hair. Zero Lift. Non-Alkaline Acid Technology.
Ammonia-Free Demi-Permanent Haircolor.
Zero lift, long-lasting shades that won't go dark and stay seamless scalp to ends.
The ammonia-free formula with fruit acids and fruit oils smooths and conditions the cuticle for even color with up to twice the shine.