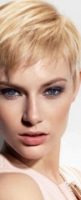 Finally... Color Perfection for Compromised Hair. Zero Lift. Non-Alkaline Acid Technology.
Ammonia-Free Demi-Permanent Haircolor.
Zero lift, long-lasting shades that won't go dark and stay seamless scalp to ends.
The ammonia-free formula with fruit acids and fruit oils smooths and conditions the cuticle for even color with up to twice the shine.