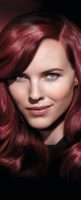 Inject color inside for high resolution impact that is true, sharp, and saturated.
This breakthrough color injection ODS Technology gives 100% more efficient color delivery.
Our color injection oil delivery system propels color actives directly to the hair's core.
It maximizes color impact with minimum alkaline agents and minimum stress on the cuticle surface for outstanding hair protection.