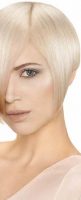 Combines the benefits of a gel lightener and a powder for on or off-scalp versatility.
Its unique ability to deliver continuous controlled decolorization for up to 50 minutes makes it ideal for everything from slight color removal to maximum lightening.
The lightening potential and speed can be adjusted by adding Light Reactions Powder Lightener.